Diskuse
Rock Trip Planning - Plánování společných akcí zde!
Administrace - problémy vývoje tohoto webu
Doplnil jsem fotky ke článkům Ještěrek a chystám zápis z porady - ještě chci pár věcí doladit tak vydržte ...

Podzimní schůzka oddílu proběhne v pátek 29.10.2010 od 18.30 v restauraci STAP Bar na Zálabí. Všichni jsou srdečně zváni! Dejte vědět kámošům a kámoškám.
viz www.hopsuk.cz/index.php?a=35
Budem rádi za případné připomínky: http://cs.euroclimbing.com/?p=12299&cpage=1#comment-6470
Díky!
Celkem dost mokro na Prachově :(. Pokus o společný prvovýstup co největšího počtu oddílovců se odkládá na příští soustředění. To se možná (vzhledem k počasí o tomto víkendu) pokusíme zorganizovat v první půli září 2010 za podobných podminek (tedy pokud to bude možné). Co vy na to?
Tak borci a borky, termín oddílového výletu na prodloužený víkend 5. - 8. 8. se nám blíží. Pro lepší představu co bude a kde se trochu rozepíšu.

Název akce:
Prachovský lezendo

Termín:
5. - 8. 8. 2010 (čtvrtek večer – neděle večer)
já přijedu v 19:00 s klíčema
kdyby někdo přijel dřív, tak to může napsat na vrátka a počkat v hospodě, nebo jít lízt
já udělám to samé (tu hospodu)

Účastníci:
HOPSUK, jeho členové, rodinní příslušníci, kamarádi, příznivci, a jejich milenky a děti.

Kde to je:
Na chatce zdarma zapůjčené na tuto akci Jirkou Pilcem (člen oddílu HOPSUK)
V Březce chatka číslo tuším 74
souřadnice GPS lokace: 50°28'40.229"N, 15°17'38.119"E
v chatě je elektrika, voda a duch
pozemek oplocen

Organizace:
Je jedno kdy kdo dorazí a na jak dlouho v daném termínu se zdrží. Mám hlášen pobyt jak na celou dobu, tak jen na začátek, či na konec. Do chatky se vejde pouze omezený počet osob a tak bude vyhrazena pouze modelkám, těhotným ženám a jejich opatrovníkům. Ostatní si vezmou stany a postaví si je na oploceném pozemku chaty. Nebo budou spát pod širákem.

Vyžití:
Kromě organizovaného lezení na Prachovském pískovci, budeme vyměňovat jeden slaňák a dělat jednu cestu s jedním kruhem, kde se napíšeme všichni jako prvovýstupci. (upřesníme na místě)
Dále budeme tmelit kolektiv aktivitami jako je plážový volejbal, koupání, opékání vuřtů, chozením po slack line, večírky atp..
Další možností je účast na Prachovské čtyřiadvacítce.

Jinak:
telefon na Běhyho 724534944
telefon na mě 777006630
Střihoun
Zdarec, everybody, nevíte, zda se dá se koupit někde v kolíně průvodce na Prachov? Eventuálně nevíte, jestli mi ho prodaj na parkále u turisťárny? Díky velice!
Ahoj oddíle, termín je na světě. Prachov - Březka 5. - 8. Srpen 2010
více zde: hopsuk.cz/index.php?a=34
Tak sem byl po dlouhe dobe na moste u pasinky a vsiml sem si slanakuu...dobrej pocin, chvalim skritky z pasinky. Az pojedete na pisecek tak dejte mi prosim vedet, teda estli bude misto i pro ex hopsukare

.
mejte se a at vam to leze Mara

Ahoj oddíle,
jak to vidite s terminem soustredeni 2010? vice zde hopsuk.cz/index.php?a=34

Tak doufám, že se čtvrteční premiéra bp zdařila. A zítra je tu již osmé poněkud utajené Pašinka Klání viz. hopsuk.cz/index.php?a=31 Tak se těšíme na kamarády i závodníky před 10.00 na Páše. Prezentace předem možná na 777 006 630 (Střihoun).
Zvu Vás jménem celé Tejpy na premiéru BÍLÉHO PRÁŠKU, která se bude konat v Praze na Cibulce 27.5. po soumraku.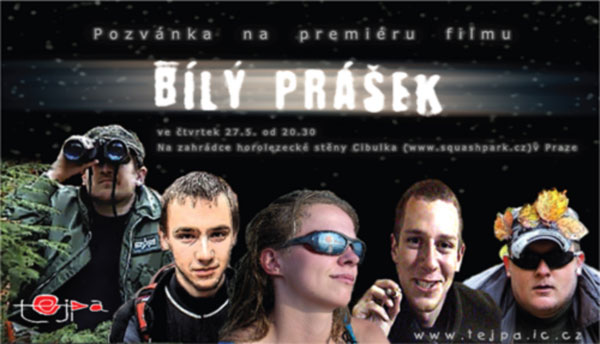 Film v jeho patnáctiminutové stopáži zpracovává lechtivé téma používání magnézia a odlehčenou formou poukazuje na absurdity spojené s tímto kontroverzním lezeckým tématem.
Dále je na programu ubíjením času bezúčelným a nepraktickým způsobem, přiživování se a tlachání o všem lezeckém i nelezeckém. Za poplatek je tu i bouldr!
Pokud se chystáte vypravit se, dejte vědět na tejpa@ic.cz.
Info o místě: Stěna Cibulka, www.squashpark.cz. Spoj z anděla bus č.123.
Bude tedy klani na Pase v sobotu 29.5. 2010 ??? Vi to nekdo? Zvadlo stale neni? Kdo se moc pta moc se dovi, ale nedalo mi to :-). Taky ho muzem udelat v JURE :-).
Zdar a sílu ke Kolínu, pokud máte trocha času, v hlavě lezení a chuť k pivu, tak vás zvu na Workshop Singing Rock o tomto víkendu ve skalách na Bišíku. Bližší info najdete na www.singingrock.cz Sportu zdar a lezení zvláště
Přátelé, kdybyste měl kdokoliv chuť jet na kultovní lezecko-společenskou akci jménem petrhoradské padání, ozvěte se mi. Zdá se, že nakonec nemám s kým vyrazit, přitom předpověď perfektní, připravená takřka nová oblast plná parádních boulderů: http://www.lezec.cz/clanek.php?key=8571. Nejsem žádnej výkonostní boulderista, ba naopak, šak mě znáte. 723 255 934
Dneska jsem dal vsechna trika, ktera jeste nebyla rozebrana, do obchodu k PAVOUKUM. www.mapy.cz/#mm=ZP@sa=s@st=s@ssq=pavouci%20s.... Zde si muze kazdy clen HOPSUKu 2010 s platnou CHSkou zdarma vyzvednout to sve triko (podle seznamu, ktery je v krabici pribalen mu bude pridelena jeho velikost, kterou jsem mu vybral). Doufam, ze jsem velikosti ve vetsine pripadu trefil. Zmena bohuzel neni mozna, uz by to pak nevyslo. V budoucim oddilovem dotazniku (jak o nem mluvili Pesa se Steebem v zime) by asi nemela chybet kolonka velikost trika, celkem by se to hodilo vedet. Nezapomente v seznamu zakrouzkovat, ze jste triko odebrali a nechte tam klidne i datum a podpis. Diky a necht slouzi!